About your StreamYard session
Each session will have a producer as well as staff / volunteer live stream and audience chat monitors. Your session producer will help you navigate your presentation, including launching your session, selecting which screens to broadcast, applying chyrons / lower thirds with your name and title and feeding you audience questions where appropriate, among other concerns.
For these events, we have available screen sharing technology available, but are unable at this time to host pre-recorded videos or other non-live video presentations.
Joining your StreamYard session
You will receive a calendar invite from Brian Duff, learning@journalists.org, a few days before your ONA presentation. Your calendar invite will include a link to join your session presentation via StreamYard.
You will be asked to join your presentation via this link about 10 minutes before your session block commences.
Clicking through the link, you will find a landing page asking you to:
Check your camera and mic

This function is available after you've joined as well

Input your name

Please use "First Name" "Last Name" conventions; diminutives and other nicknames are appropriate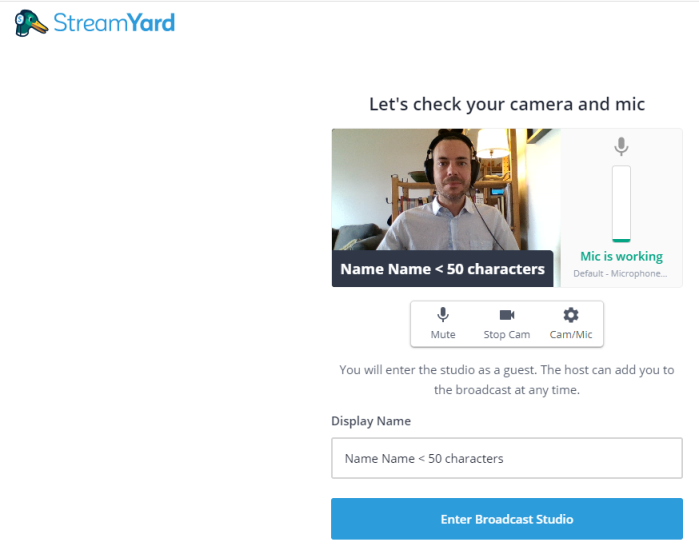 Clicking the "Cam/Mic" settings gear icon, you will find an environment to test your camera and microphone, including the option to broadcast in lower resolution. You are also able to choose or upload a Green Screen (if your natural background is well-lit and simple enough to support it).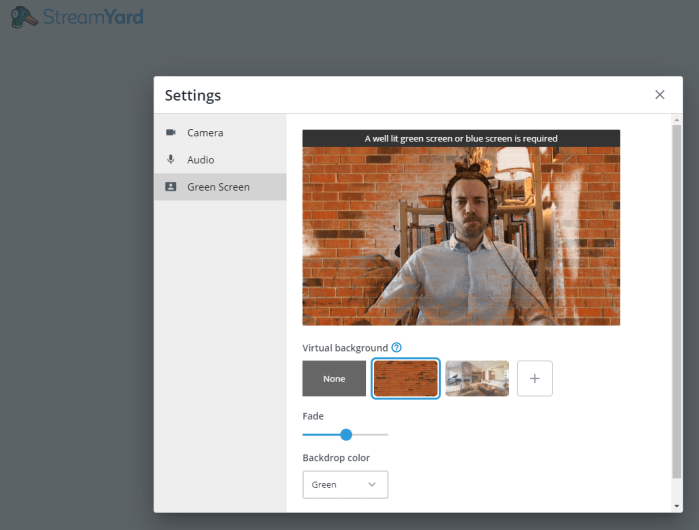 Closing this dialogue box and clicking "Enter Broadcasting Studio", you will find the full StreamYard environment. At this point you are "backstage" and your audio and video will not be broadcast until your session producer chooses to do so.
Within this environment, you are able to stop, start and adjust your video and audio outputs, and to share your screen to your producer.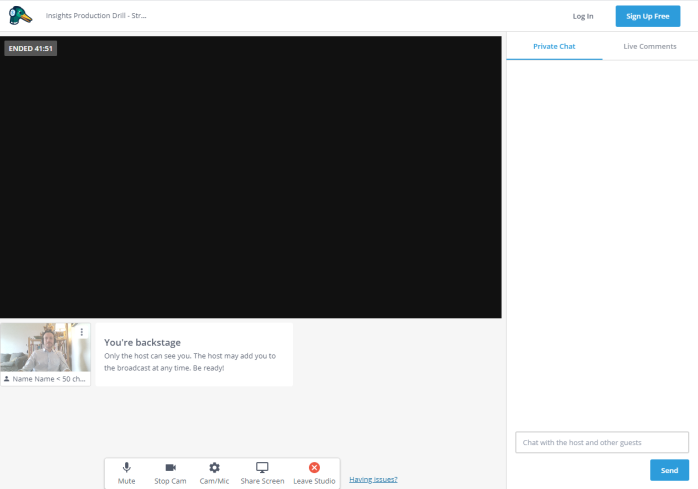 Clicking "Share Screen" will prompt you to choose which screens you would like to share (if you are using multiple screens), and / or which tabs or application windows you would like to share.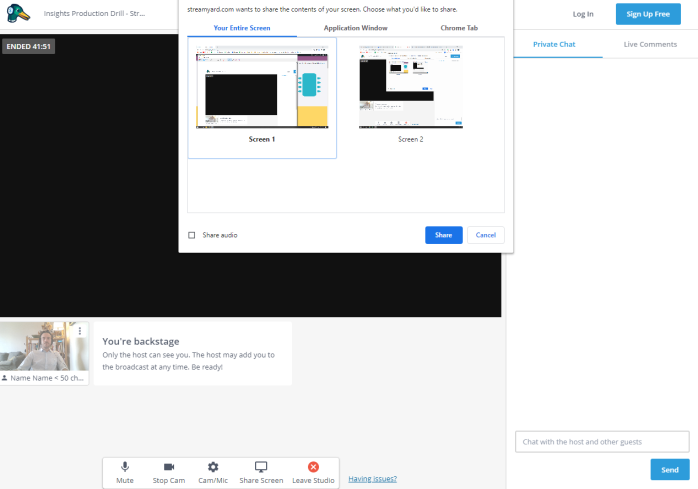 Once you are sharing your screen, an image of it will appear alongside your camera view below the broadcast screen. This allows your producer to choose which screen to broadcast.
You can "Stop Screen" at any time.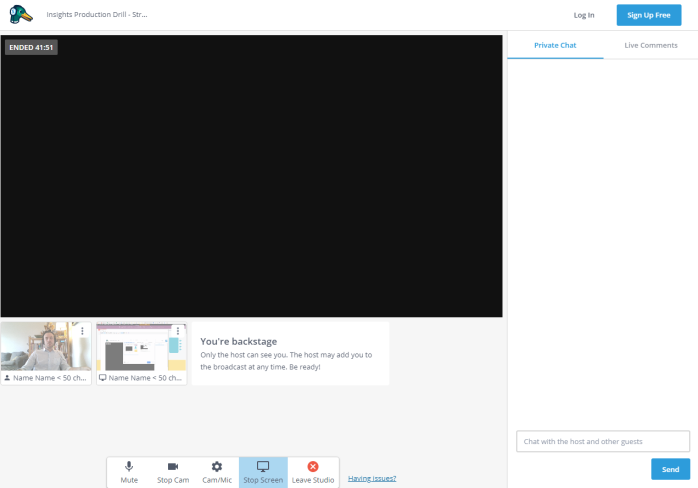 Concluding your StreamYard session
At 45 minutes, your session producer will end the broadcast. Please remain online after the conclusion of your presentation for about five minutes to allow your producer to go through the steps necessary to close out the session properly.
Attendees will have the option to view your session at any time, and will have access to any session materials you have made available. Attendees joining asynchronously will not be able to view anything placed in the chat bar.